History of the Lotte Berk Method®…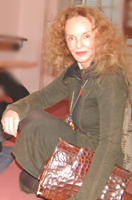 Lydia Bach's name is synonymous with the Lotte Berk Method® and she is solely responsible for the meteoric rise in popularity of the copycat barre oriented exercise it has spawned.
By a chance discovery in London 40 years ago, she immediately saw the potential in a primitive exercise protocol, created by Ms. Lotte Berk. Lydia intensely studied its nuances for over a year.
After mastering the techniques, she purchased the worldwide rights, and kept improving the secret exercise formula to where it is today - the most effective exercise routine to totally transform women's bodies.
Always Active in Sports…
As a child, Lydia started being involved in physical activity at her parent's country club, playing golf and tennis. She realized at a young age the benefits of exercise and physical activity had on affecting ones looks, health, and energy level. It would be the cornerstone of her philosophy for an enriched life.
While an undergrad at the University of Illinois, the school's sports program only required one year of participation. Well, Lydia enlisted in multiple sports for all four years, excelling in programs such as: cheerleading, gymnastics, ice-skating, swimming, and field hockey.
During those formative years, she also physically worked the corn fields of Illinois, actually driving a six row tractor at the farm, it was strenuous to turn that wheel but it developed a lot of her upper body strength.
Lydia went on to graduate from the University of Illinois and then worked as a tax lobbyist at the non-partisan Illinois Taxpayer's Federation.
Worldly travels Crosses Paths with Lotte Berk
Lydia then went on a worldwide trek, passing through Europe, to Eastern Europe, Greece, and then Turkey. She lived and worked for several years in Asia, Africa, and Central and South America. She learned multiple languages, Oriental dance, yoga in India and studied Eastern philosophy. But, it was one fateful trip to London that changed Lydia's life and the course of women's exercise.
It was the late sixties and actress Britt Ekland discovered an effective body sculpting exercising a dark dank basement studio in London, taught by the flamboyant Lotte Berk, a famous Jewish dancer who fled Nazi German and settled in London.
The studio was call Rehabilitative Exercise. Lotte originated the movements to heal her own spine after a bad accident. But there was a serendipitous byproduct, the exercises created fabulous women's dancers-like bodies and made them feel strong and sexy.
Britt dragged her friend Lydia along to one of the classes for a try. All it took was one class for Lydia to be hooked for life. Though she was in phenomenal shape, she couldn't do any of the moves. Here she was, so strong, so mentally strong, traveling throughout the world, thinking she could do anything, but couldn't hardly do any of Lotte's movements.
It was just phenomenal, the challenge of those early classes, the thigh and abdominal exercises. Lotte was doing what the Europeans did for bad backs, they were strengthening and stretching the lower back, by being in the curl and then strengthening the front torso.
The Lotte Berk Mehtod® Was Born
In addition to being a physical fitness aficionado , Lydia was also an entrepreneur. She saw the potential of these movements and where it could go. So, she purchased the worldwide rights from Lotte. In deference and love to her mentor and original creator of this revolutionary exercise, Lotte Berk, Lydia christened the name of the movement "The Lotte Berk Method" and brought it to America.
Lydia set out to create a serious business where she would always be learning and developing an exercise system that could not only heal injuries, but even prevent them. Originally Lotte didn't have sufficient overall stretching or upper-body weight lifting, Lydia added those later. Today, approximately 30% of Lotte's original key movements, those core movements that were advanced for their day, are still in the Lotte Berk Method®. The rest are refinements added by Lydia through years of research and experimentation.
Lydia was always interested in the emerging science of sports medicine. When she started with the Lotte Berk Method in the U.S. sports medicine was in its infancy. By incorporating many of its key principles, Lydia as able to improve the Method to where it is truly a transformative exercise that has remained injury free for decades.
Lydia also believes it helps the enjoyment of "working out tough" if there is some playfulness, some fun in class, and great rhythms that just want to make you move from rap / hip-hop to bhangra of Punjab to hot, Latin beats. She's a pioneer who's developed an exercise method that get results, is fun, and is sexy, oh so very sexy.